From The Hosts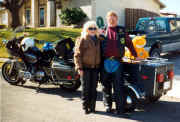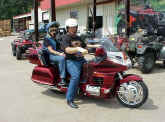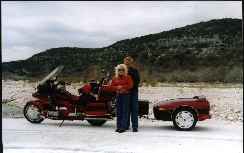 Well, what can a fellow say? 1997 started out as a pretty bad year - busted job, busted marriage, and the unhappy prospect of having to "start over". Among the "casualties" was my computer....and "Ol' Blue", my '96 GL1500 Aspencade. One night I had finally come to the realization that there simply was nothing more I could do on my own, and finally turned it over to God. Shortly after, Jack Sides - a friend I''d met through the "Wings On The Internet" mailing list was on the phone. He'd taken the time to call around and find out what had happened, and had mentioned it on the list - and the rest is the stuff of miracles and legend.... "George, I've gotten letters from all over the world - we'll be bringing a computer down for you to use shortly - and oh, yeah - start shopping for a motorcycle!"
Now, I wasn't digging in garbage cans, but a motorcycle was certainly nowhere in my budget in the near future. Jack explained that the people I''d talked with on the WOTI list had decided that this Texan should be on two wheels, and put in motion a world-wide collection to make it happen. Shortly thereafter, I located a 1982 GL1100 in Washington State. Another WOTI list member - Tom Guy - offered to deliver the bike when I wasn't able to get time off from my new job to pick it up, and "Silver" was soon enroute to Texas! Silver was delivered to me in an epic gathering of WOTI list members from around the country, and what could a feller on a limited budget do to show his appreciation but cook up a mess of Texas style pinto beans.....and so began the "Alamo Run"!
A lady took her first motorcycle ride with me the day "Silver" arrived. Known affectionately as "Schoolmarm", she wasn't too sure about the group of motorcycles that came rolling up her drive, with me grinning ear to ear...but she climbed aboard - and became my best friend. In November of 1998 WOTI friends came from all over the world to celebrate another happy occasion - our marriage. Finally, in May of 1999 it was time to take the "next step" - after months of agonizing we had decided to upgrade to a GL1500. In a twist of fate, a friend of "Silver's" original owner had asked us to contact him if we decided to sell him, and soon Silver was headed back to Washington state, his "job" here in Texas finished.
We now ride a red 1998 SE, and have since added a Bushtec Genesis trailer to pull behind "Scarlett". We've managed to cover 18 states in 'bout 35,000 miles so far (besides Texas!), and plan to travel ta Vegas an' other western states this summer. Usually, we make Wing Ding each year, but we decided that Indiana jest didn't hold much interest for us - and besides - Schoolmarm jest LOVES jewelry shoppin' on the reservations out west!<G>
Because of the caring and love shown by our friends of the WOTI list, this road of recovery has been faster than I ever dreamed possible, and it is therefore as a token of our gratitude that we host the annual "Alamo Run". 2002 will be the fifth year, and for as long as our friends care to come, we will be honored to extend to them a bit of Texas Hospitality, Bar-B-Que....and "Pappy's Pinto's"!!
What does it cost? Nothing! After being told that "enough is enough", ah've agreed ta put out a "kitty bucket", but please understand that it is NOT thar ta collect any "set" amount. It's jest that folks said that it wuz time we allowed 'em ta kick in a little ta offset the costs, so ah finally agreed. Folks, if ya ain't got it ta spare, don't worry 'bout it - we're jest glad ta see ya! All we ask is that you be so kind as to register via the "Participants" page so that we can be sure to have enough food for everyone!
Sincerely,
George (The Texas Redneck) and Pat Mandry, a.k.a, Pappy & Schoolmarm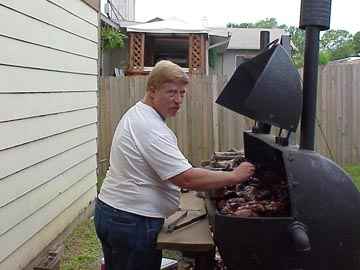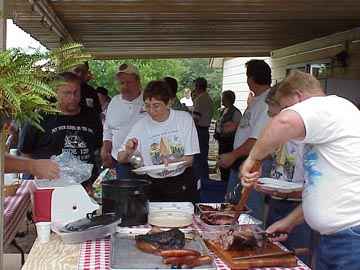 Get yourself stuffed with true Texas BBQ!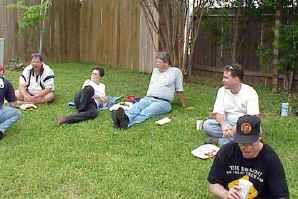 Digest...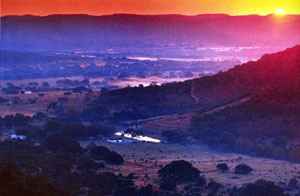 Then, ride through the Hill Country...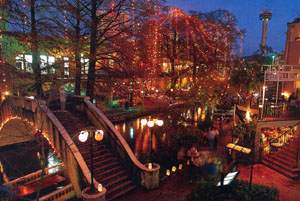 Check out San Antonio River Walk!
# of Visitors: